Signal One CX7A Audio Output Module

When the CX7 was first designed it used a PA237 IC for audio output. The IC was mounted on the Power Supply Module along with other related parts. This IC became obsolete and Dick Cunningham, K0HHP, designed a small board using an LM380. This board mounted on stand-offs on the Power Supply Board. It really did provide better audio and many of us modified our rigs in the 70s to use this module.
In April, 2006 I decided to recreate this module. I made my original drawings from images of the original module (shown in the first picture below) then cleaned them up using Photoshop. Other things prevented me from devoting much time to this project and several years passed. During the restoration of a CX7 for Bill, WA8CDU, I needed an audio module. Fortunately a parts rig I have had one in it. I used that for the restoration but it got me thinking about making some more modules. So, I contacted Tom, N0SS, to see if he was still etching boards. He was. I emailed my drawings, he cleaned them up and sent his revisions back. After a few minor changes he etched five boards. Once again we have recreated a module that was originally designed in the 70s before computer programs that generate commercial quality layouts.
2015 update - I have now run out of spare modules. Perhaps I will attempt to etch some more in the future.
Click on thumbnail for larger picture.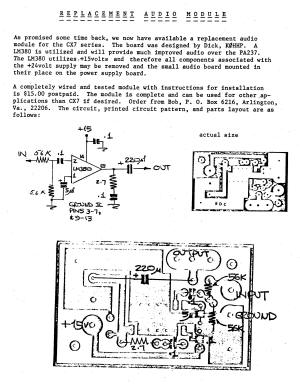 This is where it all started - Signal One Newsletter Volume 3, Issue 1, Page 4, January 1977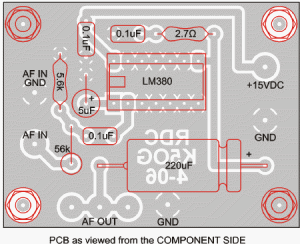 This is what the board will look like. This pdf file is from Tom, N0SS

The actual boards.
---
Created: February 27, 2009 Last Updated: December 04, 2016
� Copyright 2017, PakRatz, Corpus Christi, Texas, USA