Signal
/

One CX7A


S/N

00123




OK, I know. I really don't need another CX7 but here is a chance to save one from the scrap heap. I saw this radio on ebay. It did not sell so I contacted the owner and we struck a private deal. His call is W2BI and I have found out that he actually owns 6 other CX7s. He will be sending me information on those radios soon (I hope).
I thought this would be a much easier restoration that the one I did some years back. However, once it arrived, I found that who ever trashed this radio really f**ked it up. This rig is missing some rare parts and the wiring harness was indiscriminately unplugged from most boards. Who ever scrapped this rig damn sure knew what to take. HI
The worst part is that he unsoldered damn near every connection in the broadband tuning circuits. I had a spare assembly in a donor rig so I swapped them out. That was a much simpler fix and if it becomes necessary in the future I can rewire the original assembly.
I have almost everything I need to restore this radio including a case and front riser. I hesitate to use these parts as they are my last and I don't know if I will ever find more. Oh well, what the hell. At first, since it has an actual "B" Power Supply Board, I thought I might use my ONE AND ONLY spare LED Keyer/Counter Board and make this a true CX7B. But considering this is a VERY early radio I reconsidered and decided to leave it as is.

It's now mid December and I have done much work to this radio. And there have been some serious and difficult issues to deal with. It is now receiving but with the very early AGC/Detector Board it is impossible to set the S meter reading properly. I'm not going to obsess over this. The Keyer/Counter Board is almost working but the display "rolls". I've replace a lot of ICs but still not working right. The keyer works. I finally decided to pull out a spare board and repair it. It works and I will deal with the original board later.
The radios transmits but has low power output.

Here are some pictures of the radio from the past owner.
Click thumbnail for larger image.



Here are some pictures of the tube cage and broadband tuning assembly.
As you can see many parts were missing in the tube cage. Rare ones at that.

And here are some pictures with the parts installed.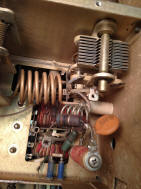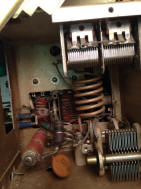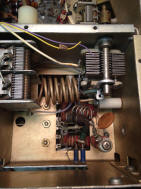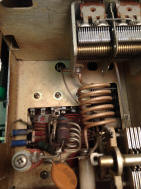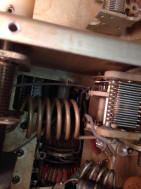 After replacing the entire assembly.
Will add updated pictures of the finished tube cage soon.
And just to make things difficult it still didn't work. But after finding the problem I think I may know why the previous owner was tearing up this poor radio. The common contact on S2 which selects between manual tune and broadband was open. Not burned off, just not conducting. I removed the switch and replaced the contact on the wafer. It is a delicate and tedious job but it worked.
And this is what the radio looks like today. With my indispensible assistant, Sophie.
I am missing two small knobs for which I did not have spares.
UPDATE: Thanks to Mark, K5AM, I have the two missing knobs installed.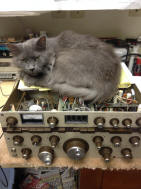 ---
Created: June 19, 2016. Last Updated: February 03, 2019
Copyright 2019, PakRatz, Corpus Christi, Texas, USA